December 31st, 2005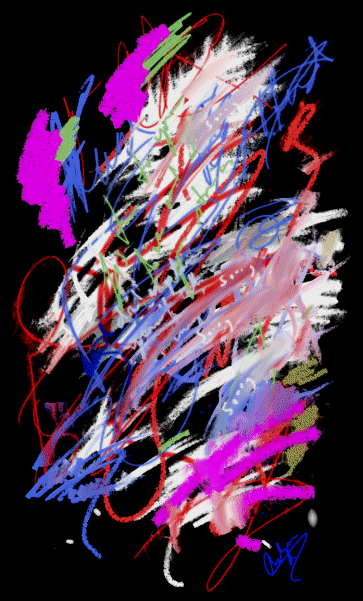 This will be my last journal entry for the year of 2005 and I don't really have much to say about this year in retrospect but I'm glad it's over and I look forward to writing mm/yy/2006 on my checks from here on out. Actually, that's not entirely true...it's just that I wish I could quantify everything I've learned and share it with you here. For better or worse all I can offer you are the cliff notes.
I must admit as well I'm not publishing this entry on the 31st but instead the 3rd of January. I wrote a series of notes, painted this snazzy 80's-ish looking picture, and had it all ready to go...then I spent the evening making strawberry margaritas, playing clue, reading tarot cards, and enjoying time with my friends. So I'm going to take this one bullet at a time.

One of the things I've learned (or have finally accepted) is that human beings are projection machines. Put another way, we're active creators painting our world one stroke after another. I mean, you can sit still, not say a damn word, and people will make you what they want you to be. If they're afraid, you'll somehow reflect that. If they're joyous, you'll somehow reflect that. Hell, you don't even need to exist, they'll make you!
I've learned that this is okay.

Another lesson that 2005 lead me to accept, that we choose our physical, mental, emotional, and spiritual ills and our miseries. We choose to smoke, we choose to eat poorly, we choose to be afraid of old age. We choose to complain or talk behind each others backs--then worry that they're talking behind ours. We choose to be in control or not be in control, to be addicted or not-addicted. We choose what to put into our bodies, minds, and spirits, and we choose what to release. We choose to allow fear to control us or not to control us. We choose to live in the past, in boxes, insane.
We choose whether or not we can see this.

I have seen my daughter put herself in so many boxes. She does it all the time. "I don't like that," she'll say when we're looking at a restaurant's menu or at clothing at a store. I love it when she does this because it reminds me she's human--and that I am too. I stick myself in little boxes, I don't wear those types of clothes, I don't watch those kinds of movies, I don't hang out with those people, I don't, I don't, damnit I don't and you can't make me!
The more attention the "I" gets the smaller it becomes until it is completely bound. Do you understand?

I am thankful that I am able to see the boxes I put myself in almost immiediately--and often beforehand. It makes life much more playful, though not as innocent. C'est la vie, can't have everything.

I have learned that I can experience any emotion without acting on it. I've learned that I'm not perfect when it comes to this but I've discovered it's okay to simply experience any emotion, no matter how intense...and to be patient, there is no hurry, there is no need to act now or even ever, perhaps. When my mind is calm then I can decide.

I am learning to be passionate without tripping over myself.

I knew most people were afraid of sorrow. I have learned that most are just as afraid of joy.

It is better to be alone and in peace than surrounded without.

On New Years resolutions I have this to say: if you want them, have them. If you do not, don't concern yourself.
I personally believe one of the most powerful tools you can have in this life is living in the moment and that skill isn't date driven, it is not mandated by your age or what's happened before or will happen. It's the place that makes us equal, the place where we have just as many advantages and disadvantages, the place where we have the choice to recognize what resources are at our disposal or not, the place where we choose to take action or not.
So you want to loose weight? Do it now! So you want to make more friends? Do it this year! Do it now! So you want to be more successful? Learn that computer language? Write your book? Center yourself? Become more fit? Benefit those in your life?
Well, stoopid, Get'R'Done!

I am slowly loosing my hair and though I will miss it, oh well. I'm growing it out so I can enjoy it long, a second and a last time before the final hurrah. Do what you can with what you're given then shave your head :)

Oh, and good luck trying to figure me out this year! It's going to be interesting!!! :)
Until 2006--which is actually as I write these final notes and publish!
Your friend,