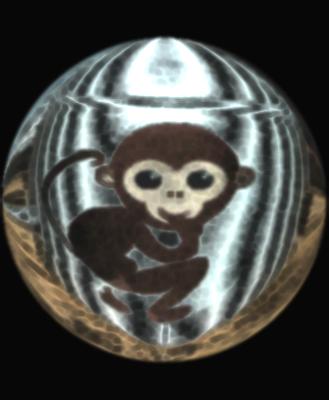 December 21st, 2006
Don't tell me how to parent. That's it. That's all I have to say. Simple enough. It's not your goddamn business so please, unless I've opened the door, asked for your input, or you have some stake in my daughter's upbringing please, please, please, don't cross that line and project your own opinion on me.
I would appreciate it.
This is a pet peeve of mine, admittedly, people who can't keep their viewpoints on parenting to themselves. It's one thing if someone wants to share their views on politics or religion as these are areas of debate and personal conviction but to butt into another person's personal relationship with their child?
How rude!
I realize people have strong points of view but it's not like it's socially acceptable to walk up to a married couple and say, "Hey, I don't agree with the way you two are communicating, I think you should have more heart to hearts and in fact should schedule those every afternoon before dinner." Most people would find that invasive and at some point you're going to get the finger for butting in where you don't bloody well belong.
Yet for some reason a substantial percentage of the populace does not understand nor respect this simple and reasonable boundary when it comes to parenting. True, it takes a village to raise a child but if you don't have legal guardianship or have been given responsibility for a child by a legal guardian or have been asked for an opinion then keep your damn mouth shut (it's called manners).
Parents don't appreciate unsolicited advice and believe it or not they get A LOT of it. Personally, I believe most parents shrug it off as another spouting off at the mouth by others who are generalizing and acting like experts where the underlying indication is that the know-it-all knows better than the parent who's been raising a child for one, two, five, or fifteen years.
What's the point of all that anyway? Do people who do this somehow think they're being helpful to me, someone with years of child psychology under my belt (not to mention one year of being a nanny and six years of being a parent)? Do they think just because they watch Dr. Phil every other day that they somehow understand the stages of development, interpersonal communication, or the like? What the hell?!
And believe it or not there are different breeds of the seemingly ubiquitous "parenting expert". There's the non-parent know-it-all who doesn't seem to get that listening to them is like going to the dentist for advice about a rattling catalytic converter; parenting is a little more than abstract and conceptualized theory! There's the relative or parent who, having their children out of the house now thinks it's their job to unofficially adopt yours (and give you minute by minute instructions on how it "should" be done--I mean they're older so they must know better, right?). And then there's the loving parent who thinks their theories on parenting are golden because hell, they're a parent and have been for awhile, yet their child is constantly lying, throwing tantrums, and manipulating adults without consequence. Yeah, I'm really going to listen to them, they're obviously super successful at helping their child become a well adjusted human being. And then there are those people that, though their children are fairly well adjusted, believe that this is somehow a basis for forcing their religious and/or political views on you because, hey, they're from X religious and Y political party and their kids aren't acting out in the way yours did last week so it must be because your family doesn't do X and Y (forget the fact that their kid is acting out in other ways that your child isn't!!!). And worst of all is the person who in a conversation that starts "Looks like it might rain today" learns you have children and suddenly has all the answers to your particular situation that they know absolutely nothing about. How arrogant is that?
So I'm not going to apologize and here's what I'm not going to apologize for:
I'm not going to apologize to you for our first phone conversation where you as a non-parent rambled poetic for twenty minutes about what I "should" be parenting like and what I was doing "wrong"--without any indication that your criticism was welcome nor even relevant to my family situation. I'm not going to apologize to you for politely commenting on your child throwing a tantrum while we were at a restaurant when I'd spent the previous five or six months allowing you to parent in your own way (your business, not mine) and yet you'd spent that entire time criticizing how I choose to parent (my business, not yours)--and for the record it is my business when I go in public with a child (or adult) and they make a scene. I'm not going to apologize to someone who yells at one child for breathing and lets the other get away with murder and then tells me I'm "too strict" and I should force gender stereotypes on my daughter--a sphincter says what? And I'm not going to apologize to those who think they know better because they have a certain belief system--belief systems don't raise well balanced children!
Well balanced and loving parents do.
You see, I don't parent based on how I feel. I don't parent based on a psychological framework, a social one, a spiritual one, or a political one. I have this silly little idea called results based parenting and the funny thing it's pretty simple. You might call it trial and error. I try something. I observe. Does it work? Yes? No? I learn, I continue forward. Reality in the present (and memory of the past) is my compass to parenting. Does Jung's theory on children help with my daughter? Yes? Okay, I'll work with that. Does my daughter respond to an authoritarian hand or a soft one? Ok, I'll work with whatever has the positive result I'm looking for. This is in large part how I parent.
Take for instance a little discussion Vipassana and I recently had regarding our daughter. Now in the past when she hasn't had school on a weekday I've either had to work from home or bring my little girl into the office (an experience she's learned to expect and tolerate). Now that she's old enough we've started to discuss letting her stay at home alone. One of the issues with this is being able to trust that she'll act responsibility without adult supervision; in our case that means complete her chores before playing and listening to music. Vipassana wanted to write lists for her and if she completed those every day, we could trust her to be home alone. I wanted to leave her home without lists as I felt if she was responsible enough to stay home she was responsible enough to be able to know our expectations (of which we continually remind her).
So yesterday I gave the little one a hug then locked the door behind me as I left her home alone for the day. Vipassana and I somehow managed to agree we'd try the "no list" option and see how the girl did. At lunch I stopped by the house to check on her and she proudly showed me not only the chores she'd done, but some extras she did (such as organize the DVD library in the living room). When I got home in the evening all her chores were done and she'd even taken the initiative to practice her saxophone without any instruction.
This is results based parenting. We tried something. It worked. So we'll stick with it. If it didn't work we might try the list (yes, I am willing to try things I don't necessarily agree with) or we might come up with someone else. We try, we watch, and we grow from there.

This month I've been expressing my views on parenting but in my defense I'm not throwing it in your or anyone else's face. You're making a conscious decision to come here and consume my opinions, my experiences, my views. I'm not saying I'm right, I'm not saying this is how you should do things, I'm just saying here's what I think, here are some experiences I've had, do with them what you will. And for today's rant I'm expressing another view, that I don't appreciate, nor have any respect for unsolicited advice, especially from people with questionable track records in parenting. This does not make me a hypocrite--I am not expressing these opinions to you without your consent--and frankly, parent how you feel best, that's your job (not mine!). This is simply my rant, my response, my 15 minutes of fame throwing shit back in the faces of all the know-it-alls that think-they-know-better: having an opinion on parenting doesn't mean others want to hear it and having the ability to copulate and procreate doesn't exactly make you an expert in the field.