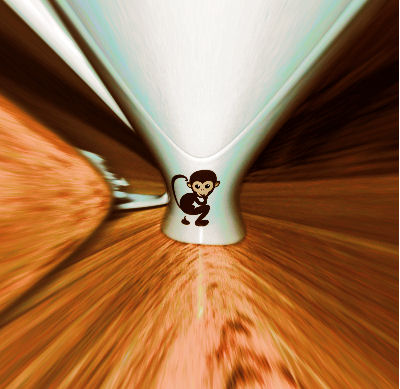 June 24th, 2006
The other day I read someone's blog. I don't normally do this. In a strange sort of way I read people's blogs every day without reading them. I see someone walking down the road and I may experience nothing--on the other hand I might be flooded with emotions and imagery I could hardly describe to you, a cacophony of thoughts, vision, and emotion.
So please don't be offended if I don't read you blog. It's not that I don't find you interesting it's just that at any typical moment I'm getting way more information than I could through your blog or as my eleven year old daughter has recently educated me: TMI (Too Much Information). And honestly, it's far too easy for me to spot masks, everyone's wearing them and very few are conscious (and honest) about them and in a way a blog is just another mask, another story. Even I can sit down with the best intentions there will always be a bias because I must, in some way, shape, fashion, and form, choose my words, the words I wish to use to represent myself to you. And so I don't care to see another respresentation of who someone is through means of a web journal, I just want to hear their voice and walk beside them to the market or the beach.
The reason I was reading this blog is a co-worker sent it to me. He thought it was absolutely hilarious. Me? I read it and though I could understand how some would find it humorous I found it upsetting. Now years ago I would have argued. How could someone find something so uncompassionate and judgemental funny? Now, though, I ask myself, "Why doesn't he perceive this the same way I do?" When I ask myself that question I know there is much there to learn.
In summary the blog entry was written by a guy who met this girl at the gym who he went out on a date with. He picked her up in his sports car and knowing that some people (I say people as not to be sexist but I mean "women") can't help but make penis jokes at a bachelor with a sports car he made a joke at his own expense which ticked her off. He opened the car door for her, other doors, took her coat, and pulled out chairs for her but with each thoughtful act she retorted with something rude, passive agressive, or just a general complaint. That night while they had dinner she spent the time critisizing his beliefs, his family, him in general. Needless to say this isn't the kind of date most of us have in mind when we agree to go out with someone but whatever, the guy gets ready to take her home and they walk out to the car and he starts to get in the car and she says, "Hey, aren't you going to open the door for me?" With that the guy got in, locked the car doors, and drove off.
I can see how this story would be humourous to many. I mean, what kind of hypocritical bitch pulls shit like that and expects to get a ride home? He takes her out, pays for dinner, and is a gentleman and all she can do is bitch! WTF is wrong with her?
On the other hand, WTF is wrong with this guy? He demonstrates little patience and made some presumptions up front and is overly judgemental and uncompassionate. The girl obviously has issues and a human with issues needs love and understanding, not being left on the side of the road without explanation. The guy struck me as a self-centered prick.
So yeah, I could see the humor. And yeah, I was upset. I was upset because I could see how fucking backwards this girl's behavior was. She wanted love and connection or she wouldn't have been on a date but her behavior was so abusive and call me silly but that isn't attractive to most. And the guy seemed to think he was somehow morally in the right for leaving her in the dust and on a karmic level I do agree, she got what was coming to her.
Actually, what upset me most is that I dated that girl.
I'm kidding. I never dated that exact woman. But the description was uncannily familiar. A girl who bitches about everything you do? You spent hundreds if not thousands of dollars on them, turn the other cheek when they insult, take advantage, and lash out, and all they can do is whine, bitch, moan, gossip, and lie? Yeah, I've dated that girl...one, two, three, at least four times in the last five years.
That's the part of the story that I found both humorous and upsetting. I'm not the only guy who's dated that girl--that's funny because I can relate. That girl is a living, breathing, suffering human being--that's not funny because I can relate.
As I mentioned previously part of me thought this guy was a prick for taking off. He could have at least driven and given her the cold shoulder while driving her home and just ignored any phone calls from her. That's what (I believe) most people would do. But the prick just took off.
Or maybe he's not a prick, maybe he's a fucking wise man and I should bow down and say, "I'm not worthy, I'm not worthy."
Take me, for instance. I am the penultimate idiot, the complete fool who so often looks at my past failings and so overcompensates to the extreme--in particular I have, over the last five years, allowed a handful of women to completely walk over me to prove to myself that I'm loyal.
I fully admit it: I'm an idiot.
Take for instance the girl who, for absolutely no reason, accused me of videotaping her and I being intimate after she learned I had (a perfectly visible) webcam in my room. Personally, I find such an unfounded accusation to be offensive but what did I do? I listened and tried to be compassionate, after all, she wouldn't say something like that unless her trust had once been betrayed.
Take for instance the girl who promised me everything and then one day suddenly didn't have the time for anything anymore but said that "nothing" was wrong and when I discovered she was seeing an x-boyfriend she lied. What did I do? I tried to see her point of view and create a common ground where we could talk.
Take for instance the three single mothers I've become close too. I never criticized or told any of them how to parent--it's not any of my goddamn business! And yet each of them has given me lectures--yes, goddamn lectures--on how they don't agree with my parenting style. And the really offensive thing is I went to school to be a psychologist and these people with little to no background in child psychology felt they could tell me how to parent! So what did I do? I nodded politely, sighed in private, and just let these people express themselves freely.
Single mothers are nuts...(I say tongue in cheek)
These are just three examples. And I'd still think these were isolated examples or that I was just somehow unlucky or simply attract certain types of women but this is just the tip of the iceburg.
How about the fact that almost all of the women I've dated in the last five years pushed sex on me very early but were somehow put off when I wanted to sit down and do something as crazy as, say, talk birth control, STD's, family planning, any of that? Or all that have pushed have asked to have unprotected sex because, "You can trust me," and, "I don't plan to have anyone but you," and, "I just feel closer that way". My last girlfriend even had the balls to tell me she didn't care if she became pregnant because she'd take the kid for herself--I couldn't even believe how self centered she was! And then there were the gossips who talked behind my and Vipassana's back (one almost cost Vipassana her job) and the girl who played the friend game with me, got me to spend hundreds of dollars to fly down to visit, then spent the entire week at work or on the computer trying to get laid.
I have sometimes asked myself:
What the fuck is wrong with people?!?!

And so this guy, the guy who wrote the blog, maybe he's a saint. Maybe he just says, "Think it's okay to treat me like shit? Well, I can dish it back too and in equal amounts."
I can't do that, though. Since '99 I put up with almost anything to prove to myself that I can listen, that I'm understanding, that I'm loyal. I've let people, even Vipassana (many years ago), walk all over me and I'd just take it thinking that if I tried to talk they'd listen and I'd listen and we'd work things out.
What's so hard about getting through a difficult conversation? I don't get it. You walk into a room. Someone else is there. You both recognize you don't necessarily agree but you do agree the conversation is difficult. You both stay there until YOU ARE BOTH DONE. That's it. Simple, straight, to the point. Doesn't take a rocket scientist. Sit down and talk until an agreeable solution is found.
Why do so many find such a simple thing so hard?

Articulating my personal boundaries has always been easy for me. Knowing when to enforce them hasn't. I don't know where that line is for me. Being empathic I can see and hear and taste and feel where other people are coming from to the point I can predict their behavior with stunning and often unnerving accuracy. One girlfriend, for instance--I knew within five minutes of talking to her when we'd meet, where, and under what circumstances. I knew whe'd have sex, where, and how long the relationship would last. I knew she'd be "false" during the last few months of the relationship and received the "dear John" letter within 2 hours of my predicted ETA. How do I, seeing what's in the future, treat someone fairly but at the same time trust a sense of intuition which has become uncannily accurate?
When you start to see things that clearly you'd think those lines become clearer but they don't. Instead you have hope. You hope that maybe people won't be as predictable, maybe they won't be selfish, maybe (yeah, fucking maybe) they'll keep all the promises they make.
What do you trust? Intuition or the person love?
I don't have the answers. Maybe I'm not ready for them and maybe I'm not wise, but I'm wise enough to admit I don't have them.
But I'm looking.

I'd be lying if I said I don't care about or miss these people. If I didn't care I'd lock the doors and drive away. So I've tried listening and I've tried talking. But this past year I've lost all patience with abusive behavior towards me or those I love.
One x, for instance, writes once a year and she tells me what a loving and wonderful person she is. After so many hours, weeks, and months trying to actually carry on a succesful conversation with her I finally said enough is enough. I mean, how many lies do you patiently listen to before you realize there's no choice but to lock the doors and drive away?
Have I, in my silence, facilitated people's behavior? By not screaming the instant they kicked me in the balls was I telling them it's okay to behave in a socially destructive manner? Was I adding to the delusion that their behavior was somehow acceptable? Am I an enabler? Morgaine, has my regret over my poor treatment of your heart and soul caused me to choose to allow others to abuse me? Have I foolishly overcompensated yet again?

I promised awhile ago I'd tell you about something, a psychological disorder I've observed and come up with a name for. If I had decided to take a career in psychology I'd study it in the laboratory and write papers on it, I'd demonstrate how and why it causes broken marriages, dysfunctional families, and wars.
It is called Reactive Tranpositional Aggressive Disorder.
We have synonyms, of course. The "blame game" or "lashing out", but the fancy name is Reactive Transpositional Aggressive Disorder. Simply put, it's the psychological need to agressively react to a stimuli in an irrational fashion "transposing" or putting personal responsibility for one's actions, emotions, and/or perceptions on to others.
Someone runs a red light, smashes into your car, jumps out, screams, then sues you for the damage to their car: that's RTAD.
If you don't believe it's common here's a challenge. Tell someone a personal boundary then enforce it. That's it. Just tell them something like, "I don't like it when someone reads over my shoulder," or, "I value honesty," or, "I need my partner to be loyal to me emotionally and physically." Then wait. Wait until that boundary has been pushed then say, "Hey, you may not recall but I articulated a boundary to you and I'm not going to allow you to cross it again, okay?" Try that and chances are you'll experience a little Reactive Transpositional Aggressive Disorder, baby--and it's not perty.

I want to take a moment to thank the one person in my life who has helped keep my hope alive. You see, a long time ago Vipassana really took me for a ride. She took advantage of me. She trampled all over me because she wanted to have her cake and eat it too. But she stayed in the conversation, she learned how to listen, and after many years of mutual stumbling and tripping she respects my personal boundaries.
Vipassana admitted to me today that she's sad because she's realized that she hasn't been in love in four years. I didn't know what to tell her. I've been in love but the choices I've made to trust people have only gotten me hurt so my immediate feeling was to respond, "Jesus H. Christ! Are you nuts? Do you really want to give your heart to some insane mother fucker out there in our culture who's more interested in themselves than giving you the love and appreciation you deserve?"
But I didn't respond, I just listened and nodded because I've been feeling the same way. I haven't been in a relationship in a long time, the last time I even considered it the person suffered from a huge case of RTAD. And so I don't know what to tell her. I want to see people who walk the walk. I want to see courage. I want to see people talking AND listening. I want to see imperfect people living imperfect lives but doing it on the up and up. And then I can tell Vipassana there are some sane people out there and one that will have her best interests in mind.
I hope she someday meets that person.

Now there have been those who, when I asked them to respect my boundaries, reacted with RTAD and used Vipassana as the lightning rod. If you're reading this you know who you are. But I've been silent and tonight I want to finally stand up and tell the truth and here it is:
Your perception that you were ever in some sort of competition with Vipasanna is misplaced. She is one imperfect human being who I love and she is my friend. She pisses me off sometimes, she hurts me sometimes, and sometimes she just drives me up a wall. But she stays in the conversation, she's there for my birthdays, and she has shown me time and time again that I can count on her.
She's the one human being on this planet I trust.
You see, she's not someone to compete with, she's a role model. Pay attention to her because she treats me pretty darn good. Once upon a time she lost my trust so you should be asking yourself how she's earned it back (the answer is: by learning to walk the walk and consider my feelings when making important decisions). Does she have my respect? Absolutely, because she makes hard choices that take everyone into consideration instead of thinking (and acting) based on what she gets out of it. And yeah, I love the fact that she admits and take responsibility for her mistakes, that she listens, and that she isn't fickle.

Anyway, I hope you will forgive my rambling this evening. I will not make an excuse for it, these things have been on my mind and I hate feeling like I'm somehow holding something back from you. So here are my thoughts. I hope you are able to sort through them and understand.
Goodnight,