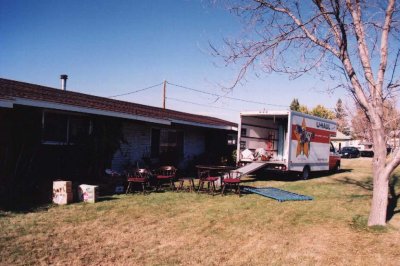 May 23rd, 2006
Thursday night I got to sleep in a bed. No shit, this was the first time in years, maybe even a decade, where I didn't end up sleeping on the couch watching tv either through choice or because my parents were staying up late watching cop show after cop show. TJ Hooker one year, CSI the next. Some things change in form only.
So I slept in my sister's old bed and knowing I'd be riding several hundred miles first thing in the morning I settled down early, which for me means around 10pm.
I meant to be up by 8am. I swear, I really did! I said, "Hey, would you wake me up by eight?" and my dad just laughed. And indeed when my mom knocked on the door at 8am my first reaction was to cover my head and seek the warm comfort of the blankets and my dreams. I mean, if I got out of that comfortable bed I'd have to take a shower and brush my teeth and get everything packed onto the bike again and have breakfast then get all the gear on and endure the heat of all those extra layers until I got out on the road and then the possible rain and cold weather and oh, it seemed like such a hassle.
Why was I on this silly quest, anyhow? Oh yeah, warm blankets. Zzzz...
Slept in about fifteen minutes and/or until my dad gave me a hard time then counted to one hundred--a strategy I sometimes perform to give myself at least another minute of sloth--a highly questionable strategy which often leaves me oversleeping the alarm. But this particular morning I hit the magic one hundred and though I contemplated the idea of just nodding off my feet lept out of bed and I found myself following them quickly into the bathroom, naked, and feeling the hot water run over my body. This, I was sure, was the last real shower I'd have for the next two days so I enjoyed it in earnest.
That morning my mother made poached eggs and toast. She'd also made coffee and when offered I declined knowing that coffee = urine and once you get three or four layers of motorcycle gear on the last thing you want to be doing is stopping every 30 minutes to find a tree and work your willie out fifteen hundred zippers towards freedom! On the other hand dad said she never made coffee when I wasn't around so what the hell, could I really turn down a cup? As my daughter would say, "How rude!"
So I enjoyed one cup of very strong, very black coffee.
Saying goodbye that morning was very strange. I had so much on my mind it was difficult to communicate; my mind was on the bike, on the gear, on the road. And my parents were also on a trip to California so we were all planning and getting ready but I had to get off sooner, I was on two wheels, I needed to beat any potential thunder or rain storms, I wanted to insure I could take my time as opposed to being in a hurry. And so it was breakfast and coffee and one last minute run to the bathroom followed by hugs, a hop on the bike, and out the garage past the old highschool and onto 26.
On my way out of town I noticed some new stores being built and a Dollar Tree I'd not noticed before. On my way out of town I noticed a church where the old drive in theatre where I'd first seen Star Wars had once been. On my way out of town I noticed fields that were now covered in concrete.
I took a left at the old gas station and left highway 26 for a few minutes. This was the road my school bus used to take, on the right was the house a friend used to live in, on the left the hill we used to climb, where we'd found a roll of toilet paper and in our foolish youth let it all fly in the wind and catch on the twisted branches of the juniper trees. Around the curve I took a right past an old school mate's home. Up ahead only a few miles was the country home I moved into when I was three years old, the house I have always considered home, the house that appears in my dreams from time to time.
I found myself on the verge of tears. I didn't know why but I was overwelmed with sorrow and feelings of loss. I wanted to go back, I wanted to be ten again and live in a time and a world that was much more simple, in a world with more fields than concrete, with more hope and mystery that faith and foresight. True, at that age I didn't have all the $$$ or the freedoms, but I woke up in the morning and the world was simple. I had hope. I had people I believed in and people who believed in me. I believed I'd grow up, go to MIT, become a successful scientiest or lawyer, make a difference, meet a beautiful woman, get married, raise a family...but somehow I got sidetracked by psychology.
Oh sweet naivity!
Before I saw the house I couldn't help but notice how fast I could get there on a motorcycle. Seemed like the trip took half the time as it would have in a car. In contrast while I was in middle and high school I used to ride a ten speed bicycle from the countryside to town and back and forth. When I was younger I did this to visit a friend and play Dungeons & Dragons. As I got older it was to hang out, play video games, and smoke--and then later to escape from my family. Yet even after he bought his Porsche (which later broke down) and then his Nissan truck he rarely got off his ass to come out to visit. And even after I moved to Eugene I found I was usually, if not always, the one crossing hundreds of miles to hang out with him and watch him play video games and smoke cigarettes.
We don't talk anymore him and I. I have only one friend from my former life and he is not one of them; perhaps he never really was. Riding on my motorcycle reminded me of a time where I'd put every last bit of energy into people who put very little back into me. If I had to make the same choice again, to bicycle or not to bicycle into town, I would stay out in the country and read a book.
It has taken me a long, long time to realize my worth.
I didn't cry in my helmet. I wasn't going to give in to sorrow but I must admit there was sorrow in my heart as I saw my old bedroom window and I thought about all the sights and smells and memories I'd had both inside and outside that room. I missed laying in bed at night and smelling the mint fields being harvested in the summer. I missed having twelve channels on the tele and standing in front of the fireplace on a cold winter morning before school. I missed standing out and waiting for the school bus and I missed not having any worries besides that one homework assignment, a few simple chores, and...
...and I stopped at Johnson Creek Road and I took a right, followed it for a mile, then headed east again on highway 26. The trip eastward had officially begun.
A mile later I saw the home of Les Schwab, the namesake of Les Schwab Tires. Around a curve was the Ochoco dam where the Lutheran minister I had grown up under taught my brother and I how to lure fish. Oh, we'd lost so many expensive lures on those dam rocks and caught so few fish! And I remember the day I went out on the lake on my own in a little two man yellow rubber dingy paddling, paddling, paddling, with my fishing line following behind in the water, the bobber going up and down. I knew how to make due back then. Or you could say I didn't know how not to.
Looking back I think I was looking for an excuse for a "nastalgia stop". Realizing my motorcycle jacket and pants weren't zipped together (they can be zipped in back to make them into a single piece) I pulled off at the parking lot and boat ramp. I wasn't going to stop but thought what the hell, if I was there I might as well zoom up around the little camping loop where an older man waved and I nodded back. Oh, I remember being ten and staying all day here with my family, the ski boat parked there on the lake shore, and my brother and I we'd be in the water swimming and then we'd jump out and run up the hill, thongs clicking against our heals, and munch on BBQ chips. Oh, and back then I just loved BBQ chips, they were my favourite!
The dock area, I saw, had been turned into a much larger parking lot. Someone had put a lot of time and money into it since I was ten. I stopped the bike, flipped my left foot up to get it into neutral, then did what I came here to do, that is, zip things up. And while I did so I couldn't help but acknowledge how nervous I was now, about the trip that is. This was about the farthest east I've ever been by myself. In the past I've been on east 26 out towards John Day with the boys choir, but that was a long, long time ago, before my voice had changed and I'd ever grown my hair long or understood the meaning of fear, sorrow, or regret.
And then I saw them, two cruisers dressed in black leather, shoot by on the highway. They must be headed for the motorcycle rally in Baker City. Then, before I was moving I saw several more follow, about a quarter mile behind the first gaggle.
"Great," I thought to myself, "there goes my solitary ride."
About five minutes later I could see them ahead, only three or four cars between us. After fifteen more minutes following these cars who were rude enough to tail gate the bikers but too polite to pass them I shot past all the cars and joined the back of the pack, one sports biker dressed in red following up behind a gaggle of cruisers all in black.
Question: Why do they call them cruisers?
Answer: 50mph in a 55mph zone.
They seemed like nice guys, though. After about twenty minutes the first group pulled off to stretch their legs and then a few minutes later the second group pulled off. And me, with no gaggle to define my speed hit the corners at...well...at sports bike speeds.
Vroooom, vrooom, one gear down, look ahead, lean the bike, lean, lean, roll on the throttle, wooooooooowwweeeeee!
I had been worried about rain but there wasn't anything but clouds yet. Clouds and beautiful Central Oregon scenery. Carved out of ice burgs in the last ice age this was a wonderland rich in fossils and ancient history. It seemed like the rain and erosion was teasing these hills into sharing their deep and burried past with me. I wanted to stop and look through the rock formations but there were places to go, places to be. Maybe some other time.
I would be back another time, I promised myself.
I stopped in John Day at a Texaco, gassed up, used the bathroom, then ate some trail mix purchased inside the little store and downed a Red Bull--and of course I took a few pictures of my little friends. Before I forget to mention it I also bought 4 lottery tickets which isn't something I often do but I thought it would be fun to scratch them off and win or loose (I lost) that evening while camping.
Then I was off again down highway 26 and keeping my eye open for the split off to highway 7 which the map promised would take me straight up to Baker City. I found it, turned, and found myself going higher and deeper into the green forests of the Pacific Northwest.
In my rear view mirror I saw a sports bike gaining ground--I know it's rather insecure but I always feel pressured when there's a biker behind me, especially if it's not someone I know. So I rolled on the throttle and got some good speed around the corners and up the hills before finding myself behind several slow moving vehicles, the main culprit being a truck with a trailer carrying a large cargo of freshly chopped and stacked firewood. When I was a kid my dad, brother, and I used to go out in the forest to get firewood and the smell brought on a rush of memories of early mornings, long sweaty days, blisters and slivers, and hot cocoa. And then as we rounded a corner he pulled off the road and a state trooper came from the other direction, the officers, I saw, were staring right at me accusingly--god, there's nothing like that stare, you know the one, when people look at you as if you're guilty of something and whether or not you are they've already passed judgement.
Of course they can't stop me because they have to go by the radar detector and it's gonna say 45mph. And of course I don't like it when people make assumptions about me even if they're communicated by a short glance. And of course they would have had their way if we'd crossed passed two minutes ago. So I thank the maker for the two slower vehicles I had found myself behind and echoed a short prayer for the biker behind me who was probably still barrelling along at a high speed not knowing about the trooper.
Baker City reminded me of my home town. It wasn't too big, not too small, and seemed to have a mix of older buildings, newer buildings, and more than one traffic light. This seemed like the kind of place that would hold a rodeo or say a motorcycle rally. But I didn't have time to explore. I went straight through and waved at bikers that I passed. I thought about getting gas but I probably had enough to get to La Grand safely so I hopped on I-84 west bound and off I was at (a legal) 65mph (or so).
That's when my butt really started to hurt. It's lovingly called "Monkey Butt". Google it sometime. Plenty of information but basically after you've been riding a motorcycle for awhile, 60 - 200 miles, depending on the type of bike and quality of your seat, your ass feels like someone's been sanding it down with a belt sander. YEEEAOCH! And the thing is a five minute stop and stretch will help enormously but do I stop at the first rest stop after Baker? Nope. Do I stop at the rest stop before La Grande? Nope.
Gotta keep moving!!!
I take the first exit to La Grande and go up the windy road. I stop to get gas. It's over $3 a gallon. Fortunately Jack gets over 40 miles a gallon or ~200 miles a tank. But I didn't get off the bike yet, I wanted to find a parking lot where I could have a little space and some shade and once I found one I had another Red Bull and took more pictures of my little friends (are you seeing a pattern)? Time to double check the map. Which road next? 86. How many miles until the camp ground? About 75. What time was it? Five or so. I should get there before dark.
Good.
Well, everything was "good" until I started the bike and wondered if I'd completely lost my mind. Most of the other bikers probably had motel rooms reserved in Baker City. They were central to the rally yet I was over an hour from my camp ground and that was almost two hours from Baker City. It just seemed nuts and as the road seemed to stretch farther and farther ahead the more nuts it seemed. On the other hand I recognized that I like to be a little different and frankly I sometimes like to do things the hard way and sometimes doing things the hard way turns out to be better and more beautiful than you could have ever intentionally planned for.
But then again sometimes it's just crazy! Well, the only way to find out was to keep riding...so I kept riding...
Still, my butt hurt. I wanted to discover my camp site and start a fire and put together my new one man tent so I find a good pilot car to follow behind, a red SUV going about 70mph. And then again, as always, we end up behind a half dozen slow pokes and they're all too polite to pass so I flip the blinker and roll on the throttle and from 55mph to 100mph in 2.5 seconds....zzzzzzzzzzzzzzzooooooooooooooooooooooooooooommmmmmmmmmmmmmmmmmm!!!!!!right blinker, right lane, brake, slow down and another state trooper rounds the corner.
I bow my head and thank the maker. I don't allow myself to get cocky over it as I've found that the universe appreciates humble thanks much more than it does ungrateful cockiness.
There are many small towns to go through and never ending farmlands. Most of the traffic is, like the red SUV that's now following me, either tourists heading towards a camp site or 4x4 pickups. This land is isolated, this is where Native American's lived and hunted and loved and wared. This land is sacred.
Then I see the kind of road sign that makes a sports biker salivate, orgasm, or both, that yellow "sharp curves" sign. Eight miles of them in this case. So that red SUV that's been tail gaiting me, lets see if they can do 70mph down a ravine and around corners with suggested speeds of 40mph.
The road is perfect, the curves are long, the site distance gives me safetly to lean and really roll on the throttle. I look in the rear view mirror. Well, I'll give them points for trying ;)
And then it's back to the straight-a-ways. I'm overwhelmed by feelings of being in the middle of god forsaken nowhere and I feel lonely. I wish Vipassana could be with me to enjoy the road and the snow covered mountains I'm getting closer to, those mountains I know from Google Earth surround my campsite. After hitting a six mile stretch of straight road, the most boring kind of a road for a motorcycle to go down, I start feeling pitiful and pathetic. I don't have many friends, I've never had many support systems. I have even fewer friends now than at any other time in my life and as I sat there on my bike, completely alone in the middle of butt-fuck nowhere I was angry and sad and upset and lost and angry...
...except I knew that at some point I'd be in Wallowa, the sign said so. And then Enterprise and then Joseph. I trusted the road, I trusted the signs, I trust Google Earth (after a fashion)...
Finally I hit Enterprise and it's only a little ways from Joseph. And then I come into Joseph and my first thought is this town is absolutely georgous, beautiful...the land here is sacred. That's the best way to describe it. The mountains are magestic, the town is quaint and friendly, and though it superficially resembles Sisters, Oregon, the land excudes a deep spiritual past that an empath can't easily ignore.
This place felt big yet the irony was it did not make me feel small or unwelcome.
I rode slowly through town then out past the gravesite of Chief Joseph which I promised to visit before leaving. I never did, though, as I plan to visit it again with Vipassana--after all, this wasn't the kind of place I could keep to myself.
This place was sacred.
Then I zoom around to the lake. And what a beautiful lake it was. On one side is the long, slowly curving road. Cupping the lake almost like a hand are the white mountains reaching up into the sky. I promised myself to get the video camera mounted on the bike after setting up my campsite and getting some shots of the lake and mountain before it got dark--after all for all I knew Saturday and Sunday were going to be overcast and rainy.
I was completely amazed when I arrived at the Wallowa Lake Recreation Area. The area is a small amusement park of cabins and restaurants and bumper boats and the docks and picnic areas and camp sites--this amazing little nexus is hidden between the mountains and lake and though it's full of humanity it doesn't feel like it's lost its connection with nature, something that can't be said of, say, my home town. I doubt my daughter would get bored there (and in fact on my return I discover she's been there before with her grandfather and enjoyed the experience enormously).
The first thing I see when I ride through the campground area is a buck walking calmly through. It looks up at me then keeps walking. I stop at the station at the entrance and get off the bike. Do I sign in? I spend a few minutes reading the postings but there's no information for what someone does who's made a phone reservation and already paid. Jeeze, frustrating but what can I do? Nobody's in the office so back on the bike. I stop at site A10 which I thought was mine but after getting off the bike, pulling off the sleeping bag and pack, and pulling out my reservation printout I discover I'm actually setup with site A30 so it's tip toe back out of A10 (motorcycles don't have reverse!) then up around the bend. There are quite a few people in their travel trailers and such and as I turn the corner of the A loop I see a young couple, perhaps around my age. The girl looks straight at me. She looks incredibly unhappy, like she doesn't want to be there. It reminded me of one of the last times I camped: my honeymoon.
And it tore at me.
A30 was fairly near their spot, just on the other side of the path. I pulled in and nearly dropped the bike as I set my feet to the ground. I hadn't realized just how wiped out the ride had made me; I hadn't realized until that moment that this had probably been the most miles I'd put on my bike in a single day. So I carefully got off and walked around a bit. I used the opporunity to check out the ground, figure out where I'd pitch the tent. The best ground, as I've learned from my youth, is flat, grassy, and devoid of rocks. Several spots like that but which was best? Oh, who cares, this one's good and close to the bike and not close to the firepit (fire + tent = holes in tent = leaky tent + bugs). So I pull out the tent and try to put it together without reading the instructions, I never read instructions if I don't have to and I'm too damn tired to read them anyway but I have to, I'm stumped a little but then it all falls into place and there's a little yellow and black one man tent and now lets take some pictures of the campsite before nightfall and lets take some pictures of our little friends again and then lets go use the bathroom!
And oh my goodness, these are the cleanest public bathrooms in the world! And here I'd thought I'd be spending my whole weekend in port-a-potties!!! I was feeling extremely lucky to have reserved a spot at this camp ground that I'd stumbled upon via the wonders of the internet. The camp site was beautiful, the mountains were beautiful, the bathrooms were clean, and as I'd find in the morning the showers were better than could be expected.
Blessed be those who put their faith in the Goddess and her electronic sister, Google.
But still I'm feeling really out of my element. I have a cat like personality, you see. I am most comfortable with familiarity, esp. in terms of people and places. But here I was in a place I'd never been before doing something I'd never done before and I was all alone. I couldn't just get up and go home if I felt uncomfortable and I was really starting to feel uncomfortable and alone. Part of my psyche was saying, "Oh, well tomorrow you can just get on your bike and go home. Home is safe. You're not safe out here. So you can go home tomorrow, just survive tonight."
I suppressed those insecurities and prepared for a quick jaunt back into Joseph. I threw everything of value into the Joe Rocket pack and slapped that onto the bike seat and put everything that could be stolen without too much consequence back in the tent. That, I must tell you, took a great deal of effort. You see...I don't have a great deal of trust anymore. When I was seven, yes, I trusted everyone, I didn't see a reason not to. And up to about four or five years ago I had a fair amount of trust left--but as of the last couple of years I haven't trusted anyone. Well I do and I don't. I "trust" people to be who they are, I just don't trust anyone to have my best interests at heart and that...well, that's not the kind of trust that makes you feel safe around people.
I stop for gas in town to top off and be ready for the morning. I ask for the nearest grocerie store which happens to be across the street. I go in and grab a cart and I wander. What do I want? I end up getting potatoe salad and some steak and beer. I don't know why I get the beer but I've never had a beer while camping--never had those "guy" friends who invited me out on such excersions--so I pull out the debit card and pack everything into my pack and head back to camp where I realize alcohol might be against the rules so I pour the drink into my blue camping cup and nervously nurse a few bottles as it gets dark (the next day I learn it's fine--but still, I like to follow the rules).
So I look for some wood but find just a bunch of twigs. Then I pray that I might find something substantial and I go around a tree and there is one perfect foot long piece of wood. It'll last me two nights, I know. I take this along with the charcoal brickets I bought at the store in Joseph and start a hot fire and get the steaks cooking.
They take a half hour. In the meantime I nurse a beer and wait and think about it all.
I'm feeling, as I mentioned before, overwhelmed. I'm out of my element. There's a joy to what I'm doing but it's unlike anything I've done before. I feel so alone. Is this what the rest of my life will be like, always doing things alone, always challenging myself to do harder and bigger and grander things? Always growing and evolving and lacking people who understand and can keep up with me?
The steaks taste wonderful, far better than I had hoped. The potatoe salad is okay but I bought far too much, I end up throwing most of it away and realizing I sometimes buy more than I need out of fear that I won't have enough. I make a mental note of this for future reference.
I find I'm not playing with my hair as I normally do. I'm not twirling it between my fingers. I've always done that since I was three, perhaps even before. I like the way things feel in my hands, especially hair. When I play with it it becomes soft, fine, and feels beautiful. But I'm not playing with my hair that night as I'm sitting by the campfire and thinking about the weekend ahead of me. And I don't play with my hair after getting in the tent and reading a new book by Pema Chodron. And I don't play with my hair after turning out the light and opening the tent top so I can see through the insect lining out past the trees above into the clear sky. And I don't play with my hair as I watch the trees light up as a lightning storm flashes from ten miles away. Thunder roars then one-one thousand, two-one thousand, three...the storm is nine miles away, eight, seven, and the sky is still clear. It's eerie. And I am asleep.
I wake up suddenly with one thought on my mind, put the tent cover up, it's going to rain. And indeed two minutes after I put the rain cover on it begins to rain. And I fall back asleep knowing I have somehow fallen into the flow of things. There is still fear, there is still uncertainty, but there is trust that the universe knows its way and that it is willing to show me if only I provide the silence in which to listen.
Faith begins in silence.