September 1st, 2006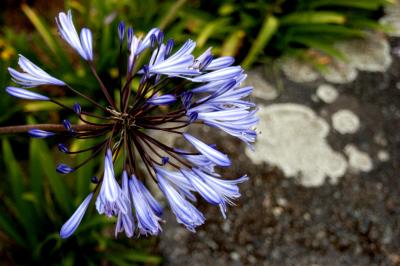 I just returned from an overnight motorcycle trip to Seattle, Washington. I went up to visit an old friend from fourth and fifth grade who now lives in Minnesota and returns this way from time to time to visit his dad. I met him today around 2pm near Seatac but more on that another time. I rode up yesterday around 6:30, went up highway 30, crossed the Columbia River into Longview, Washington, then took I-5 up to WA-512 East towards Puyallup then headed on WA-167 to Sumner where I stayed the evening with my brother's family.
So that's where I've been the last 30 or so hours. I don't know why I share that with you. I've come to realize lately just how much I don't tell people which is ironic given how much of an effort I make to share my thoughts and feelings with those in my life and though I realize I'm not the most fully articulate person esp. when I'm not in my comfort zone which happens to be (surprise, surprise) the written word I spent an innorbinant amount of my time learning how to express myself better and interact with those in my life in a more meaningful way. There are some that might say otherwise but you know, in the end I'm not writing to convince anyone of anything and people will believe what they want so there we are.
I digress. Back to things on my mind that I haven't really shared and the thing that's brought it up.
My good friend who I haven't really seen except two other times since fourth and fifth grades asked me today, "Are you seeing anyone?" I answered, "No." Except I didn't stop there. You see, with the exception of this journal (which doesn't have the emotional context of a conversation with a friend over lunch) I don't have many people I feel I can just talk with and share my thoughts, feelings, hopes, frustrations, and all that with. Sure, Vipassana is my sounding board but we've known each other for so long and are both intuitives so often we don't even need to talk, we just synch up...damnit, I'm off on a tangent again.
I have to admit I've been thinking about his question a lot lately. If you made a frequency chart of my dating since 2000 it would be logarithmic function where I dated a lot in (for me) in 2000-2001, less in 2002, less in 2003, and so on. Since I moved into my home over three years ago I have only dated twice and both ended poorly and have...well...given me a lot to think about.
For much of my life I felt I needed a partner. I was one of those people that didn't feel complete without one. I'm also one of those people (one of the few in this day and age, it seems) that was mostly in a handful of long term relationships as opposed to a speed dater (the worst I knew bragged about having seen over thirty men in a month, many of them of whom she slept with). That's not to say I haven't had some short-short term relationships. Over a decade ago while I was severely depressed, trying to get my life on track, and the love of my life wasn't returning phone calls, I felt so empty I manipulated one girl and got her in the sack just to suit my own fancy--but I hated myself so much for playing her like a violin I haven't pulled that since. And I've had a few very short relationships since but hey, when you find someone's a completely screwed up alcholic who critisizes you half the time they open their mouth.......
As of late I've wanted a girlfriend again which is new and actually quite annoying. I haven't had one for years but now I want one. The difference from my past is I don't feel like I need one. I haven't felt that way for three or four years, actually. I have enough on my plate. Much of my life is dedicated to my daughter. She comes first. Many have said, "You've gotta be happy too," but you know what, I find that attitude a sign of the times, something that comes from a selfish American culture that doesn't really get it. Children come first. Yes, we need to be balanced adults to raise them but the fallacy is that we need to be dating or in a relationship to do so. When I make choices I ALWAYS ask myself how those choices effect her and personally I choose being lonely from time to time over being in relationships with people that have a negative impact on my (and by extension, her, life).
And so the next topic for discussion comes up. I want one but what am I willing to do to get one? Truth is, I'm not interested in doing anything. I've met people through a plethura of means but I'm just not intersted in looking. I don't have the energy and frankly I'm not interested in getting caught up in the thought of want; instead I prefer to simply allow myself to experience the feeling of wanting something I don't have, breath in, breath out, let go, and move on.
It's a very buddhist attitude but life is so much more contented that way.
The next subject for me then becomes, what am I looking for? Short answer: To be accepted for who I am. Okay, whatever. That was my highschool answer and the kind of superficial bullshit you read on Match.com next to, "I like to have fun" (which is perhaps one of the most uninformative things one can say about oneself!). The thing is I have always had this tendency to overlook people's shortcomings and although I have been admittedly critical of people I've dated at times I have let people cheat on me, lie to me, and use me, with the thought, "If I stand by them they'll see and appreciate my loyalty." It took me a long time to see what part I played in those relationships and it's been hard to learn the skills to communicate what I want, where my boundaries are, and walk away when others take advantage of me.
Yes, you broke my heart but I love you for giving me the opportunity to grow.
Anyway, this list is by no means complete and one could argue I'm simply rambling this evening but hey, my fingers are babbling so enjoy (in no particular order):
What I want &&|| don't want in a girlfriend.
1. Honesty
Every girl I've ever dated, with the exception of one, has prided themselves in their honesty. Ironically, the ones that preached the most about their honesty and forthrightness were some of the least honest people I've been with. For instance one gf was seeing an x behind my back and when I confronted them they lied to me about it--to date I've heard three different stories. I'm not okay with that and never will be. My problem has always been I'll put up with this kind of crap for months--and obviously this sends the message to whomever that they can pull that shit with me. So no more. As far as honesty I've got a three strikes and you're out rule. And if someone told me flat out they weren't that honest I'm not interested. I require honesty in my friendships and by extension of that concept my relationships as well. I'm not interested in sales pitches or the political spin but actually knowing I can trust what comes out of someone's mouth.
2. Walk the walk
That's related to #1. I want to meet someone who walks the walk. I don't care if they walk my walk but they'd better walk their walk and by damn that means if they say, "I'm a vegetarian," I won't catch them sneaking a Jack in the Box big cheeseburger while they think I'm not looking. Walking the walk, to me, is about doing what one says. If someone says they're the kind of person that will have the tough conversations but sticks their head in the dirt when something upsets me, then they don't walk the walk (and frankly lacking in the friendship area). Anyhow...none of us are perfect but this is a must.
3. Some humility please!
I make mistakes. I hurt people. When I'm cognisent of doing so I apologize and do my best to make amends. I absolutely need some level of humility in another human being. I don't necessarily need to be placated to, but if my feelings are hurt an, "I'm sorry, what can I do?" would be nice (as opposed to the response "This is just the kind of person I am" response which is frankly demonstrative of a lack of responsibility). Vipassana is one of the few people that ever says this to me and it makes me respect her by leaps and bounds (and yes, I do say it to her from time to time but not often enough, I'm sure!).
4. Evolution
Yep, I need someone that changes and grows because I do this silly thing called changing and growing and I've found I can't have a friendship with someone who's found their niche of absolute comfort and won't move out of that. For instance I was once in a relationship with a girl that smoked like a chimney and I wanted to stop smoking and get my health on the right track; this mindset of personal growth was anethema to her and that difference created a huge rift. I'm always growing and learning and changing and I've found that I can't stay with someone who expects me to have the same hair cut or facial hair or clothes from day one to day ten. I think I deserve to be loved with long hair or short, a beard or clean shaven face, etc.--and that's only superficial evolution. I need someone who can accept me when my views and knowledge change, grow, and evolve!
And that brings me to...
5. No frivolous types
As a culture Americans are frivolous. It's not a criticism, that's just who we are. And I've found the same to be true with dating. After all, what is dating but a word we tag to two people trying each other on with some vaguely defined commitments. So I'm going to share something with you, I think dating is unethical. It allows two people to get together and not make any commitments. Here's what I mean. Person X and Y get together. One just wants to get in the sack, the other wants a long term relationship and who knows. Person X and Y agree that they're dating. The word allows them both to be vague and play with each others perceptions. X doesn't have to say they just want sex, they can simply say they're dating and leave it at that. Person Y doesn't have to push the idea of a long term relationship, they can play and sway the other person psychologically and emotionally. Now here's the deal. If people were committed non-frivolous person X would say exactly what they want and person Y would say what they want and they'd both be committed and responsible for communicating their points of view clearly and also for accepting the reality that what they want isn't in synch so they should move on, not play the situation for all it's worth (a ride I've been taken on far too often).
Anyway, I'm not interested in frivolous girls. I'm going to change, I'm going to grow, I'm going to experience life. Right now I like motorcycling but who knows, next year I might decide I want to jump out of planes. I don't know. But I want the person I'm with not to base their supposed love for me on who I was when we met. Tomorrow I might shave my head. Maybe it's not as sexy to them but I'm sick of people deciding to move on in part because I'm not wearing the right clothes or have the sexy hairstyle. I deserve to be loved at that moment and for every moment thereafter. That's what love, real love, is about.
Frivolous little girls, please go shop elsewhere.
6. Yeah, the loyal type
Loyalty is a must have. By that I don't mean someone that'll agree with me on everything but I do want someone that's really sticking around for the long haul and especially when things are tough. I don't know what it's like (obviously) but I know I don't like the way I feel when my "loving" partner is disloyal so I'm thinking loyalty is probably something I want.
7. Someone who can disagree with me
I can be an opinionated bastard. I have some pretty strong opinions but I change my opinions based on the information I have and am always in the search for a bigger truth than the one I have (or think I have). Part of that equation for me is being around people who can speak up and have a mature disagreement from time to time. And you know what? Study after study show that the healthiest relationships involve regular disagreements after all, how can two unique people with different wants and needs be happy together if they're not openly sharing their conflicting thoughts and opinions then determining where to go with them (as opposed to jumping to violence or silence, which is the all-to-frequent response to disagreements)?
8. Can you hear me?
I need a girl that knows how to listen, I mean LISTEN! I've known those who say they know how to listen but for real? For example I once dated someone who expressed frustration because they didn't know what I wanted. I was confused because I often clearly articulated my wants and do you know what their response was when I told them? "But that's not me," and, "If I did that it wouldn't be as special as me pulling something random out of my ass." Okay, I was somewhat liberal with my choice of words but the point is if I say I like X or I feel Y or I won't accept it when someone does Z to me and it goes in one ear and out the other...
Call me nuts but I want a gf who listens, remembers, and OMG responds to the things I say!
9. You got kids?
I never thought I'd hear myself saying this but I'd be extremely hesitant to date a single mom again. I always assumed men that would avoid women with children was because they didn't want to possibly become stuck with the responsibility of children if the relationship became serius but now I wonder. My experience has been that single mothers love to tell me how I should be parenting my daughter while they themselves will become extremely agitated if you express honest frustration about their kid who threw a tantrum in a public place. And just the whole thing about a person with no psychological education giving me a lecture on parenting--it's downright insulting, esp. when their kids throw multiple tantrums every day or gets caught doing drugs. Last but not least all the single mothers I've known have had co-dependent relationships with their kids but were likewise completely unaware of it. That's not healthy and bringing another person into that...it makes things "interesting", to say the very least.
But if said single parent has read, understand, and actively uses the book Positive Discipline then maybe I'd be open to something...otherwise not really interested. I f'n don't like putting my heart in someone's hands then falling in love with their kid then later being lied to, cheated on, or slandered, then have that child ripped from my life. Not fun. Not one damned bit. Not really interested in going through that again.
10. Accept Vipassana and my daughter
I'm so sick of people telling me just how wonderful it is that I've adopted a daughter and later, when they want to "move on", coming back with bullshit about Vipassana being in my life. This is just a cop-out, plane and simple. Vipassana is my best friend. She's not my girlfriend or my wife. I'm not going to push her or my little girl out of my life and I have a very special and unique relationship with both of them. I have a unique relationship with EVERYONE I know, so frankly it's just redicululous when this comes up--and strangly this only comes up when people break up with me.
To them I have this to say:
Hey, you know what, you're not the loyal, loving person you claimed to be. Be honest with me. You want to move on and find a new stud to start doing the mattress dance with. Don't fucking pull the crap about Vipassana and my daughter, if it had been an issue it would have been an issue on day one, not month three or six. And if it were there's a word for it:
Jealousy.
11. Passionate
This person is passionate about something. It may be music or art or spirituality but they're passionat about something. And they actually do what they're passionate about, not just talk about doing it at some point.
12. Sincere
I want all hugs to be sincere and over the years I've had a few fake ones. I need someone who's sincere with me. If we're making love they're sincere and by that I mean they're present not simply going through the motions. And if they're telling me how their day went and how it made them feel it comes from their heart. Etc.
See honesty.
13. Wants kids
If I were a woman I'd have a kid by now. As a man I don't get to make that choice. I really want to have a child some day. Not two or three but just one child who's a biological extension of myself that I can teach and raise to be a healthy human being. So...
14. Just for fun
Some of these are crazy and some more serious but for shits and giggles here's a list: