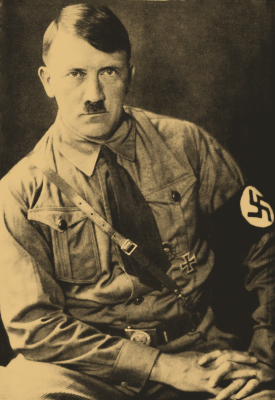 January 16th, 2007
The usefulness of a quotation can only be preserved when the message is relayed in its entirety. Metaphor and simile are only effective when they're accurate analogues of the thing they're attempting to mirror. And yet as a culture strapped for time we sneak in the sound byte, the immediate understanding, and miss the deeper meanings that often necessitate stories and comparisons that take time and effort not simply to communicate but likewise to consume.
And so it is with some reluctance I engage upon a dangerous comparison of President George W. Bush and the leader of the Nazi party, Adolph Hitler. Similar sentiments have been made before but usually these are said by those with only a marginal historical knowledge and then turned into loaded sound bytes by media representatives who have no interest in metaphor, simile, or god forbid, intelligent dialog resulting in greater understanding. Though I'd like to believe my historical knowledge, especially in terms of military strategy, outrank most, I have little to no control over the use or misuse of my words by those interested only in creating an adversarial mindset.
Adolph Hitler was born on April 20th, 1889 in Austria. He had many siblings, most of whom died before he reached adulthood. He was used to moving quite often with his family and knew many hardships including frequent beatings by his father. As a young adult he left home for Vienna and Munich where he lived a Bohemian lifestyle and tried getting into art school but failing in this ran out of money and lived in many homeless shelters. He was a decorated foot soldier in World War I and was once wounded in the leg and was later blinded by poison gas. During his recovery he began to put together his ideas which were later published in the book Mein Kampf (or My Struggle). From these humble beginnings he rose in power, wealth, and stature to control one of the greatest military powers in human history.
George W. Bush was born on July 6th, 1946 in New Haven, Connecticut. He had many siblings, one of whom died in childhood from leukemia. His family moved to Texas when he was two where he lived a stable and comfortable life, his parents being involved in politics and the oil business. He attended Phillips Academy in Andover, Massachusetts and later went to Yale and spent much of his time working with political campaigns. In 1968 he joined the Texas Air National Guard but never fought in the Vietnam war. His service in the guard was irregular due to a number of factors including but not limited to politics and substance abuse. He went to Harvard and later failed at almost every business he began. From these comfortable beginnings he rose in power, wealth, and stature to control one of the greatest military powers in human history.
Unfortunately, though there lives display many similarities, simplistic comparisons are made. Instead of understanding the fundamental reality of a thing, instead of seeking out the truth and a larger picture, we stereotype and simplify.
For instance, as a society (or arguably as a global community) we agree Hitler wasn't a nice guy. We blame him for making choices forcing World War II into the global sphere, we blame him for the deaths of countless millions of Jews, gypsies, and unwanteds. We agree, then, as a culture, that he was a "bad" (and arguably "evil") man. Any comparisons made, then, are typically categorized as qualities putting one in the "bad" camp (while those rare comparisons that might be position near a more positive quality is construed as slightly insane).
If I were to compare the two I would start with personality. Both are arguably masters at social manipulation. Hitler successfully pulled the heart, mind, and soul of a country behind him in an attempted militaristic conquest not seen since Napoleon. Bush has been able to solidify certain segments of the American voting population behind his Christian and militaristic ideals. Both successfully use emotional arguments to use fear and hatred to categorize and motivate. That being said-and I'm sure I'll be judged for saying this-Hitler is clearly the more articulate and persuasive orator. True, we look at Hitler's speeches and find his mannerisms almost cartoonish however this more an effect of seventy years of satire than of his abilities as a persuasive speaker. Bush, on the other hand, fumbles with his native language and is notorious for telling half truths if not outright lies (such as his recent assertion that congress was behind his deployment of additional twenty thousand troops to Iraq). Last but not least Hitler all but entirely used speech to bring nearly everyone in Germany behind his calling--Bush, on the other hand, can barely win an election (arguably without manipulating votes), much less keep his own constituency behind him.
In this regard any comparison between the two is an insult to Hitler who, although being "evil", was clearly the more articulate and persuasive public speaker.
One rather interesting way to compare the two men is to tear away their names, titles, birth places, and the like, then evaluate only their accomplishments. Suppose for instance we do this for Hitler but cut off the biography in 1939 before the invasion of Poland and likewise we cut off Bush's biography to 1999 as he's running for the Presidency. Now assume both unnamed candidates are running for the job of President of the United States.
Candidate A:
In the one corner we have a man who grew up from humble beginnings to be quite rich and powerful, arguably a poster boy for the American Dream. He struggled as an artist and was often penniless. Later he became a soldier and fought bravely to defend the country. After the war his interests turned to politics and, concerned about economy which had been struggling due to the war, he worked his way to a position of authority where he was able to successfully bring the economy to the strongest point it had been in a century. This candidate works actively with other countries signing treaties and promoting commerce and trade.
Candidate B:
In the other corner we have a man who grew up with a silver spoon in his mouth. Having an arguably comfortable life he spent his time in and out of Universities and jobs. During the war he joined the National Guard, which he was often absent, and never served in combat. Due to his social and familial connections he was put in the position to run several companies, each of which he failed at. Later, taking up the family interest in politics, he became a Governor and instituted failing social programs, some of the worst environmental protection laws in the country, and the number of death penalties he signed off on were so great in number to receive protests from the Vatican and Dalai Lama. This candidate does not actively engage in conversation with opposition.
Based on these two caricatures it is my belief that the average modern Republican would vote for Candidate A (Hitler). He is a more persuasive speaker, fought and was wounded for his country, is a prime example of the American Dream, and frankly, his accounting doctrine, though theoretically unsound, brought his country from a depression to a state of market dominance. Bush, on the other hand, struggles when he speaks, has a questionable military career, can't even succeed if and when he's handed money and resources most of us could only dream of, and demonstrated little to no ability to improve the social or economic reality in Texas. Liberal Americans might similarly vote Hitler if not for any other reason that, given the two choices, he wasn't repealing government protections for the environment and killing off inmates at a record rate.
Granted it is a ridiculous notion that anyone would vote for someone as "evil" as Hitler, however it is important that as we look at history, both past and present, we acknowledge similarities and differences in order to better understand our decision making processes. Insert cliché: "Those who ignore the past are condemned to repeat it."
Theoretical exploration aside, how else might we rationally compare the two?
Something both leaders have in common is a history of drug abuse. Hitler used stimulants and in particular various methamphetamines. At the beginning of his rise to power these were effective tools helping energize his speeches but later, especially after the American's invaded Europe, his addiction caused him to become highly paranoid and emotionally unstable (this eventually culminated in an attempted assassination by his generals). Bush's drug of choice was alcohol, one of the effects of this being such socially abhorrent behaviors as driving drunk. Though he drank and dabbled in any number of illegal drugs I do credit him for being clean and sober while in a position of leadership--an important quality we cannot apply to Hitler.
How about IQ (Intelligence Quotient)? I, myself, typically score between 160 and 170 on IQ tests which puts me in good company as Einstein comes in at about 160. Based on Bush's SAT score and other statistics his IQ would come in around 125 to 129 which begs the question, why would I want to vote someone into position of Commander in Chief of the most powerful and destructive military in the history of the human race if he's not as smart as I am? Based on historical guestimates Hitler came in at a whopping 141 which isn't too surprising as, though he was a persuasive emotionally, he didn't have many, if any, genuine ideas (for instance he wanted to style Nazi Germany after the Roman empire with architecture that in many cases mirrored ancient roman buildings--only much bigger).
Yet what does IQ say of a person's ability to lead?
Stanley Garn once wrote, "If the Aborigine drafted an I.Q. test, all of Western civilization would presumably flunk it." Having a background in psychology I'd have to agree. IQ tests, though well intended, aren't a truly accurate sampling of one's intelligence but should only be used to test one's knowledge in a given application domain. I score high on IQ tests because I have always had an eclectic taste in everything from art to history to science and more whereas someone who's always focused on mathematics may not necessarily score as high. And frankly, I would not be a good leader, my two biggest failings being my inability to be around large groups of people for prolonged periods of time and my inability to work the social fabric when I'd rather just get to the point.
What might President Licoln have scored? 128.
IQ, clearly, is not an adequate model for comparing leadership abilities.
The two aspects of these two men that concerns me most is not IQ or upbringing or background. Though these are legitimate topics of conversation they do not effect the world as greatly as my last two areas of comparison.
First and foremost is their shared incompetence as military leaders. In particular both are notorious for ignoring historical precedence and instead plow forward based on idealistic beliefs that have no basis in historical reality.
Hitler's motivation, as most modern people agree, was world domination in the form of a Hundred Year Reich. His initial strategy, the blitzkrieg, was quite effective in rolling right over the top of countries like Poland and France who were not prepared for such a brutal and complete onslaught. His mistake was that he didn't stop and catch his breath. Instead he pushed on towards England, a mistake that's been made by countless invaders over the centuries including and most importantly Rome (it is not irony but historical probability that they both stretched out their forces and fail in such efforts). As America joins the fight Hitler turns his eye where? You'd hope to the Western Front and also to the defense of Italy but did he listen to General Rommel? Nope. He made the classic blunder Napoleon made only a few hundred years prior, sending troups to the cold winter land of Russia without proper equipment, clothing or food, where they died by the thousands just as Napoleon's men did. Ignoring both historical precedence and the expertise of his bravest and brightest generals the end result was a bullet in his head.
Bush's motivation is something we may not know until he writes and publishes his memoir and there are countless opinions, both positive and negative. And, frankly, his stated reasons for invading Afghanistan and Iraq change at least once every six months making one wonder 1) if he's telling the truth and 2) if he even knows what he's doing. Regardless of his true motivation the clear reality is his military strategies are equal in flaw to Hitler's. For instance in one of his earliest State of the Nation speeches he defined for us the "Axis of Evil", essentially creating a war on three fronts (Napoleon and Hitler were at least smart enough to keep their wars on two). He invaded Afghanistan for the stated goal of capturing Osama Bin Lanen as part of the American retaliation for 9-11-and honestly I don't know what to say about that strategy but the only two large military campaigns I know that started based on one person was the Battle of Troy (arguably started because of Helen of Troy) and World War I (which started over the assassination of Archduke Franz Ferdinand). Needless to say both were bloody wars that resulted in nothing but huge cluster fucks and so far Afghanistan isn't turning out much different (as the violence and growth of the heroin trade is clearly showing).
War axiom #1: All successful military campaigns have clear, well defined, and achievable goals.
War axiom #2: It is not possible to win a war against an idea or ideology.
After invading Afghanistan but before insuring stability in the country Bush ordered American troops to Iraq. Stated goal: capture weapons of mass destruction that were being used to promote terrorism. Reality: no WMD's. New goal: free the people of Iraq from the tyranny of Saddam Hussein. Reality: Ignored ethnic disparities in the culture bring about terrorist attacks and civil war. Stated goal: stabilize and nation build. Reality: billions of dollars of tax payer money mysteriously disappearing and the violence intensifies.
Bush's answer is, of course, more force. His military strategy seems to be "Fight fire with fire" but time and time again history demonstrates this doesn't work. Hell, during the American Revolutionary War England had it easy. We were already a colony and had been for a century and frankly most colonists (2 in 3) considered themselves British citizens--and yet the revolutionaries kicked the British army and navy, the strongest and most advanced in the world, back across the Atlantic ocean! Bush's decision, to invade then occupy two sovergn nations, is not supported historically as being a rational military decision and the outcome, as we have seen, is anything but as stated per the mission goals.
The German people suffered for Hitler's military idiocy. America, and arguably the entire world, suffer's for Bush's. And if that doesn't convince you consider this: never in all of American history have so many generals come out to speak against the current strategies and doctrine. Fortunately we are a nation of laws and dialog; in Hitler's day instead of words they tried using a suit case bomb.
I will leave you with one last military comparison which to consider…
Hitler was the ultimate decision maker for the most technologically advanced military in the history of the human race, circa 1939. Their tanks were nearly ten times better than ours, their fighter aircraft were usually faster and more agile, and frankly their forces were the most highly trained one could imagine. This cockiness, though, was a fatal mistake. Having one tank that can take out five of the enemies is great, but if every man, woman, and child says, "We can do it!" and puts ten to fifteen tanks to your one, then you're screwed. And that's exactly what America did during WWII.
Bush has made a similar strategic mistake. Clearly the most technologically advanced military, we could easily wipe nearly any country on the planet back to the ice age without ever setting a single soldier on the ground! So we spend tens of billions of dollars on these wonderful machines hoping somehow force will make people get along. By doing so we go into debt to countries such as China, who we aren't always on the best terms with. Worst, many of our troops don't have the best training and/or aren't trained for street warfare or peace keeping (I know many will find such comments inflammatory but this is my understanding based on research and personal conversations with x-military personel).
Military might and technological capability does not win if your opponent is greater in number, more cunning in strategy, and believes they're in the right.
With every bomb we drop and family member we arrest without warrant or trial we create ten more people who think they're right. Get it Bush?
Possibly the most troublesome similarity between the two is their inability to listen to the experts. Hitler repeatedly ignored Rommel, the "Desert Rat", someone who kicked the pants out of the allies in Africa, and Bush ignores congress, the United Nations, the CIA, FBI, the list goes on. When no weapons of mass destruction are found in Iraq he shrugs, acts as if that's not such a big deal, and continues forward with whatever unstated agenda that brought us there in the first place-and yet all the while American Intelligence, the United Nations, and the educated members of the world (myself included) knew the only evidence of WMD's was in Bush's imagination. Time and time again a pattern of evidence presents itself, is ignored, and we "stay the course".
Frankly I don't know where the fuck we're going and if asked to guess I would say that the strategy behind sending twenty thousand more American troops to Iraq (while other countries are slowly pulling out) is emotional and political, not military. First, it agrees with Bush's strategy which is one of creating adversarial relationships with anyone that disagrees and throwing more fire power into the argument if others don't simply get in line. Second, if larger troop numbers miraculously have a positive result it makes Bush look politically attractive again whereas if it doesn't-well, who cares? At the very least a Democratically controlled congress will be forced to clean up the mess (and take responsibility for it) and even better, if a Democrat is voted into office in 2008 they'll be so busy cleaning up the mess that they won't be able to do anything as Republicans and their big business buddies make deals and laws to push an agenda that positively effects the pocket books of few while harming the many.
That, it seems to me, is the current strategy for victory in the middle east.
There are many more such comparisons regarding the two. I could compare their hyopcrism (Hitler's mother was a Jew which according to Jewish law made him one; Bush was abused drugs and is now a proponent of the "War on Drugs"). I could compare their economic strategies which both showed great benefit for those they liked most and felt were most like them to the detriment of others (Hitler's target was the Jews, Bush's is arguably liberals and the average working American). Both rewrote or ignored the laws and institutions of their respective countries to acheive their goals. And so on and so forth.
That said in any comparison of one thing to another, of one person to another, there will be bias and I am not free from such bias. Being aware of our biases is important to becoming intelligent people who can have deep and meaningful conversations whether we're comparing two leaders or brands of ice cream. I believe Hitler was a rather messed up soul who forced himself into a position of power where his beliefs and moods lead to the deaths of millions. I believe Bush is a rather egocentric and insecure man who's illegitimate rise to power leads to the economic and militaristic subjugation (and often deaths) of hundreds of thousands.
Now lets talk about it.
What use are our stories, our metaphors, if the only people we share them with fit nicely into two clear groups: those we agree with and those we do not. This is the pattern of a carnivorous, war-like race; these are the common psychological strategies of both Bush and Hitler. To evolve to the next stage of human evolution we will need to overcome this emotional tendency to group us-vs-them and be able to discuss, to compare, to learn, and to understand, without jumping into the boxes of our emotional ancestors.
It is time to understand our hearts.
It is time to tune our minds.